Last year on the Facebook page, I promised that I would share this rather unconventional playlist on behalf of those for whom Valentine's Day is celebrated on someday other than February 14th. I got inspired to do this by a song that my friend and de facto music editor RC posted on his personal page, one that I had never heard, but was very familiar with the song that inspired it. Then a few Saturday mornings later, I was minding my business and heard a crazy song called My Side Piece (2016) on the radio...also for the first time. Later that same weekend, I saw a thread on Twitter about the meals that had been used to lure folks in and well, I took that as a sign.
But here's the thing--I never published this piece. Days turned into weeks and by the time I realized that I had moved on several times to write about other topics, this project languished in my drafts. Recently when I noticed the calendar, I wondered if anyone would recall that I had promised, but never got around to posting this...well, here it is for those who have been waiting.
Now let me say this at the outset, the Busy Black Woman is NOT judging anybody, which is why this playlist is called Steppin' Out. I won't be resorting to name-calling or blame-gaming since it takes two to tango and much like the it's complicated relationship status category that used to be a feature on Facebook, nothing is ever as straight-forward as most of us would like to believe. And since I am not calling names or passing judgment, it is entirely your choice to continue reading to see which songs made the list...
We begin with the most iconic of songs in this category, a staple of bid whist in the basement/old-school Saturday morning R&B radio, Me and Mrs. Jones (1972), by Billy Paul. Because if you are of a certain age, you grew up hearing this song and had no idea what kind of thing they had going on "every day at the same cafe". I mean, until I gave more thought to the matter, I often wondered how wrong it was just to meet for coffee with an old friend until I realized that the lyrics were winking at us. This was a subtle nod to stepping out, unlike that other basement classic by Johnnie Taylor, Who's Making Love (1968). I think it is fair to say that Taylor's version is definitive because the Blues Brothers (1980) aren't really singing. Mr. Paul's triumph has been reinterpreted a few times, most notably by The Dramatics (1975) and more recently by Michael Bublé (2007). And though I could not find a stand-alone this clip of this song on YouTube, I must give an Honorable Mention to the waiter in the Walter and Jaleesa Anniversary episode of A Different World (you can watch the entire episode here).
In this same vein of songs from the 70s, ain't nothing subtle about If Loving You Is Wrong (1972) by Luther Ingram. He admits to being a married man, but apparently that didn't deter Millie Jackson (1974) or Barbara Mandrell (1978) from stepping out with him. When the Manhattans sang Kiss and Say Goodbye (1976), I'm betting it was because old boy knew he was about to get caught, so in order to avoid the inevitable third degree from the wife and her crew, The Pointer Sisters, inquiring How Long (Betcha Got a Chick On the Side) (1975), he just called the whole thing off! Not sure if it was a similar preemptive strike happening in this 90s version by N-Phase, but it is kind of ironic to think of Beyonce Knowles-Carter channeling that same get-to-stepping energy from 2006 on Irreplaceable now (put a pin in that because you already know). Lest it be thought that married men were the main ones doing the stepping out, Bill Withers made it clear that he was suspicious of his woman on Who Is He and What Is He To You (1972). Nowadays since love is love, we cannot assume that a man would be the only partner asking that question because in 1996, Meshell Ndegeocello wanted to know as well.
Not everybody can hide their tracks, thus when Betty Wright caught Richard "Dimples" Fields in the bathroom singing She's Got Papers (1981), we can all guess how that went down. Well as it tuns out, he landed on his feet according to the song that inspired this playlist by Barbara Mason She's Got Papers (But I Got the Man) in 1981. However, the original response was recorded by Jean Knight, but was called You Got the Papers (But I Got the Man); before that, Ann Peebles released a different song You've Got the Papers (I've Got the Man) in 1979. That's a whole pile of messy papers all over the place 😦! As an aside, and I hope Ms. Mason doesn't take this the wrong way, but she also sang a cover of If Loving You Is Wrong as well as I Am Your Woman, She is Your Wife (1978), so I have to ask if this woman had any friends? Or were her only other girlfriends the two women from The Soul Children, who sang I'll Be The Other Woman (1973)?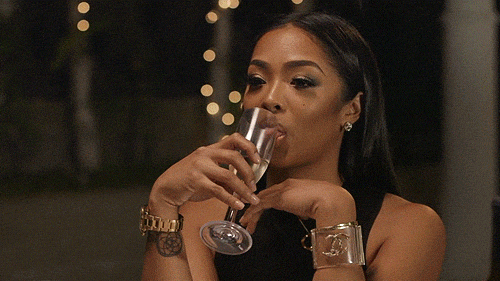 So that no one gets the impression that people only began singing about stepping out (and getting caught) in the 70s, I found quite a few gems from some of our favorite jazz vocalists, beginning with The Other Woman and You Can Have Him, both recorded by Nina Simone in 1959. Another classic comes to us from Carmen McRae's Guess Who I Saw Today, a song I often hear on the Sunday jazz programs that she recorded in 1957. This video interpretation offers an interesting twist using Nancy Wilson's classic version that was released in 1960. Wilson also sang an emotional rendition of You Can Have Him in 1964, but perhaps the most dramatic version came from Dame Shirley Bassey in 1966. There is something so dignified in the way these women sang about their hurt. I feel like throwing a martini!
(Random sidenote: two of these songs came from Broadway musicals, this song had been written in 1949 for Miss Liberty by composer Irving Berlin and was initially recorded as a duet between Dinah Shore and Doris Day.)
If you think only city folks engage in stepping out, I'm inclined to believe it is a regular theme in country music as well. If Dolly Parton was worried about losing her man to some chick named Jolene in 1973, by 2021, Sis in Chapel Hart had decided You Can Have Him. Carrie Underwood was over her man too, but she made sure he knew how trifling he was in Before He Cheats (2005). And while this takes us off topic a bit in terms of songs that tell the story, check this 2018 video for Yola's Ride Out In the Country...
As D'Angelo said Shit, Damn Motherf***er!
We all know human emotions and interactions are complicated. A change in routine got Stevie Wonder wondering on Lately (1980), although he was the one Creepin' in 1974 (oh wait, that isn't what he's singing about, that's what Luther Vandross was doing in the coda to If Only For One Night in 1985). Or was that Jodeci in 1993, begging for forgiveness clad in leather on a desert set on Cry for You after the tables were turned, once they too, realized that Lately things had changed? In 1985 Stevie sang about having a Part Time Lover (with Luther singing backup), so that's an easy mistake to make. However, there was no mistaking what Shirley Murdoch was singing about that same year in As We Lay and how she tried to warn Kelly Price from making the same mistake in 2000. For years, I could claim naiveté while singing along with Whitney Houston to Saving All My Love into my hairbrush, but not so much when I was singing along with Stephanie Mills to Secret Lady in 1987.
Babyface and Pebbles offered an interesting perspective on how people got caught up in Love Makes Things Happen (1990) because sometimes things do just happen. Unless you are taking your partner for granted, and she decides that Ray Parker, Jr. was right in 1981 when he sang A Woman Needs Love (Just Like You Do). It could be the chance encounter with an old flame, as was the case with Rick James and Teena Marie on Fire and Desire that same year (and they clearly got consumed in the moment). It was loneliness that propelled Jeffrey Osbourne into the arms of a Stranger (1979). For Jill Scott in 2004, it was flirting with temptation on Cross My Mind while Philip Bailey was singing about all the Reasons in 1974 why he couldn't resist. Karen White enjoyed the thrill of the nonstop Secret Rendezvous (1988). For Cherelle, the other man was giving her Everything I Miss At Home (1988)...so Joe was right there promising to do All of the Things (Your Man Won't Do) in 1996. And in 1970, Gladys Knight was making a strong case for herself on If I Was Your Woman.
Sometimes, the other person doesn't know all of the facts of the situation. For instance, I don't think Vesta Williams had the slightest clue in 1988 that she was the other woman until she happened upon the man's wedding! It took a minute for Shiley Murdoch to figure out that her man was somebody's Husband, and Jocelyn Brown was also in deep with Somebody Else's Guy (1984) before she learned the deal. Luther Vandross knew from experience not to get mixed up in a Secret Love (2001); meanwhile Stokely from Mint Condition questioned What Kind of Man Would I Be, and then chose not to yield to his desires in 1996. Ultimately, one would hope that when faced with temptation, most people assume like Toni Braxton did in 1992 that Love Shoulda Brought You Home.
When love doesn't bring you home, well that's how we end up here, like the couple in Atlantic Starr's Secret Lovers (1985). The ladies of TLC were singing Creep out of a mix of loneliness and revenge in 1994. Carl Thomas regretted his feelings for someone's wife in I Wish (2000). In 1983 when Klique found out that his woman was stepping out, he begged her to Stop Doggin' Me Around (taking his cues from Jackie Wilson in 1960 and Johnnie Taylor in 1972). Meanwhile the O'Jays, upon having learned about the state of things at home, were also attempting to work things out in 1976 on Your Body's Here With Me.
By the way, when I said I wasn't judging anybody...I lied. I am judging how we refer to the participants in these liaisons because the evolution from being referred to as The Other Woman (Sarah Vaughn in 1958) to being called a Side Piece (Julia Cole in 2020) seems like quite the misogynist twist on how we regard stepping out. Property was the rather impersonal double entendre used on Naughty by Nature's O.P.P. from 1991. Homewrecker was the term used by Gretchen Wilson in 2004 to describe women out there with no shame, like Evelyn "Champagne" King in Betcha She Don't Love You (1982). Would the same be said for men waiting in the wings like Tyrese on The Other Man (2002)? What would you call someone like Bobby Womack who sang how I Wish He Didn't Trust Me So Much (198)? Is there a derisive name for a Mister-Too-Good-To-Be-True who is offering the world to someone's unhappy woman like Babyface was in 1989 on Soon As I Get Home? Men get just as caught up in these entanglements as the women do, like Mtume on You, Me, and He (1984).
The Boy Is Mine
in 1998 (ditto for
Michael Jackson and Paul McCartney
in 1982 because that was whack too). Hopefully, you aren't the reason why Usher was dropping bombshell revelations on Chili in his multiple
Confessions
(still not sure why he needed two songs when he offered up the details in the
first part
). Nor would it be cool to roll up like Meshell Ndegeocello, confronting the rival by telling her
If That's Your Boyfriend (He Wasn't Last Night)
. I remain un-convinced that ultimatums are ever the move like Today demanded on
Him or Me
in 1988, because even if it did work for Prince on
The Beautiful Ones
in 1984, there is always the possibility that it might backfire.
If you find out that your partner is stepping out on you, there are multiple ways of letting them know you Heard It Through the Grapevine, and most of us think of Marvin Gaye's classy heart-broken confrontation ballad from 1968. I had always assumed that Gaye was just putting his spin on the funkier up-tempo Gladys Knight and the Pips version from 1967, so I was surprised to learn that this song had been originally recorded (but unreleased until later) by Smokey Robinson and the Miracles in 1966. Motown was good for having multiple artists on the label cover their hits, and this song made the rounds because it was also recorded by Bobby Taylor & The Vancouvers (1968), The Temptations in (1969), and The Undisputed Truth (1971). However, this song belongs definitely to either Gladys or Marvin, depending on your mood, which is why this joint live performance is such a gem. When Credence Clearwater Revival recorded it in 1970, it was a nod to both of their iconic Motown arrangements. Roger & Zapp took a completely different approach in 1981, with the talk box and the beat making this sound like dance battle at the club.
Speaking of public confrontations, this scene from Mo' Better Blues (1990) is probably how most men try to play off getting caught in the act and hope that the women respond without making a scene; I suspect Beyonce's rage on Hold Up (2016) is how most women really feel. Since Beyonce can afford to pay for all of that property damage, confrontations are more likely to resemble the Sunshine Anderson approach on Heard It All Before (2001) than Jazmin Sullivan's Bust Your Windows. Men get hurt too based on Oran 'Juice' Jones' low-key stalking then humiliating eviction of his girlfriend In the Rain (1986). To be honest, I remember hearing this song by Al Hudson and One Way when I younger in 1979, but now that I'm older I find it hard to believe that some dude is just going to Toast to the Other Man...
Which brings us to the penultimate song on this playlist, brought to us courtesy of Shirley Brown making that Woman to Woman phone call to Barbara in 1974. For years, I've tried to understand how Barbara was to blame for Shirley's man stepping out on her (given that they only just met if her number was still in his pocket). It also seemed like a weird flex to fight for a relationship by claiming that your significant other ain't shit without you...sounds more like a deflection. And that was exactly how Barbara framed her response on From His Woman to You in 1975.
same
Barbara Mason who made a whole singing career of being the other woman (and was the impetus for this playlist) is both ironic and my cue to turn up the lights to send everybody home. The brown liquor is all gone, and somebody is probably waiting up for your response to a WYD or WRU text. If you grew up in the 70s and 80s listening to urban adult contemporary radio (i.e. The Quiet Storm) or watched music videos on Saturday night, then you probably know most of these songs. By now, you've also figured out why we were admonished to stay out of grown folks' business. Relationships are complicated, period. I don't have any profound observations or parting words because I'm not judging. Beyonce is
still
with Jay. This is a playlist reflects that reality, so if there is any lesson to be gleaned from any of this, it is to keep your eye on any woman you meet named Barbara...