One never knows how a seemingly random idea can turn into a major project. On Christmas morning last year, I decided to take a few photos of the gifts I had bought from some local and small businesses, just on a whim. I thought I had gotten some cool stuff, and wanted to share those finds with my friends and followers. Then I posted some photos and
this index
to the blog, with no real plan for any next steps.
Then at some point during the past year, I decided to make my personal support of small, Black, women-owned, and local businesses a theme of the blog and on its Instagram page. If you happen to follow me on either my personal or blog pages, then you know that I have a seemingly endless supply of tee shirts (not including the ones
associated
with this blog, but I digress). In addition to the usual randomness, I use the IG page to follow many entrepreneurs, and have been blessed to connect with several of them in real life.
So as the 2019 Holiday Season comes to a close, I wanted to take time again to provide an index of gifts and companies that were featured in the Busy Black Woman Holiday Giving Guide. As always, whenever I have big plans, life happens, but what else is new? However, this year I thought ahead...What would the Oprah do (#WWTOD)?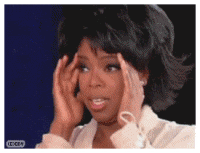 Well, without my own magazine, staff, or an unlimited budget, I began posting my finds in on my social media in November until I was done with my shopping. The fact that I didn't finish posting until Christmas Eve notwithstanding, my hope is that you will use this as a year-long reference to answer the elusive 'how-do-I-support-Black-businesses' question. .
Get Your Paper Together
At some point this year, the major retailers finally got the notice that families of color might like to see Santa rendered in
our likeness
. I know that probably annoys some folks (Meghan 'Santa-is-white-and-Jesus-too' Kelly), but check it, Santa is whomever dons the suit. If you were lucky enough to score a roll or two of mainstream retail Santa paper, that's great; otherwise, place your orders now with
Copper and Brass Paper Goods
or
Midnight Reflections
. You will note that both Santas made appearances throughout the Gift Guide this year. I plan to add Clarence Claus from
Greentop Gifts
to my stash for the sake of variety, and you can also check out Etsy to see a few other whimsical multicultural options.
You Get a Box!
I still roll with the
Izzy and Liv
Brown Sugar Box, which expanded this year to include two children's boxes and a men's box. I haven't signed up with any other subscriptions yet, but the
Because of Them We Can Box
is topping my list for my now tween Niece. If you are a sorority sister, there are the
Ivy Storehouse Box
, the
Dear Delta Box
, and the
Finer Things Box
...and now that this has become a thing, I'm sure you will find something therein to fit your needs accordingly.
Stylin' and Profilin'
I featured hometown shirts on the IG page since DC finally hit the big leagues by winning the Stanley Cup, the WNBA Championships, and the World Series this year. I have always been proud to showcase hometown pride, so here are a few of my favorites:
Ask Me Tees
,
Bailiwick Clothing
,
Check It Enterprises
,
CrankRock
,
I'm So DC
(the hardest working sister in the urrea), and
On Us Tees
. Get one (or more)!
I want to shout out my Spelman Sisters who helped me to *bling* it during my Reunion weekend:
Ourglass Apparel
,
SpelHouse Swag
, and
DiviniCo
(who designed our class tee).
Lighting the Way
Candles are the new thing in small business, so now that the Kid is a little older, I have been excited to discover new and unique scent combinations. On our holiday trip to NYC, I discovered the honey-rich scents of
Lomar Farms
made from beeswax. I received some incense from the
Posh Candle Company
in an Izzy and Liv box, so I decided to try the candles, and in addition to the intense scents, the names are most intriguing. I also shopped with
KSM Candle Company
in Baltimore and
Isabis
this year.
Books, Puzzles and Notes
After attending the
East of the River Book Festival
last year (so sad to miss it this time), I have been excited to collect books from new and emerging authors for the young people in my life. I also made a point of shopping at the independent bookstores, such as
Mahogany Books
in DC and
Grandma's Place
in Harlem, which yielded some offerings I might not have found otherwise. Some highlights include
The Nutcracker in Harlem
,
The Undefeated
,
Hair Love
,
She Stood for Freedom
, and
A is for Ancestors
.
I stocked up on some puzzles for the upcoming Winter birthday party season from
Puzzle Huddle
, but I also discovered
Little Likes Kids
, so I can change things up a bit with games now. For the preteen girls, I think these stickers and journals by
Oh So Paper
are cute. For the folks who are organized and like to plan things, might I recommend the
Arrivista Planner
, and my
cousin
who can teach you some techniques for using it.
Looking Good Girl
Continuing with the tradition that began with Madame C.J. Walker, the market for Black-owned hair care products has expanded from online retail and neighborhood beauty supply to the mainstream. I know that people feel some kind of way about the ethnic hair care aisle, but thanks to brands like
Jane Carter
,
Oyin Handmade
,
Design Essentials
, and
Thank God I'm Natural
, there are companies like
The Lip Bar
on the cosmetic aisle at Target.
Mented Cosmetics
is now available at the
Herald Square Macy's
and of course
Fenty Beauty
and
Pat McGrath
are available at Sephora.
Great products and tools are still available online, such as the
Grace Eleyae
sleep cap, the
Felicia Leatherwood
detangler brush (or one of the knock-offs), and the
Puff Cuff
. Of course, local stores and small pop ups are great for finding products such as
Hunny Bunny
,
Play Pits
, and
Oasis Soul
.
You Wear it Well
What is a pop up without jewelry? This year, I have been breaking out of my comfort zone to embrace new textures and bolder patterns, so
Beaded Souls
,
Hair Free Girl
, and
Me Two Designs
happen to be a few of the jewelry designers whose pieces I've added to my daily rotation. I just discovered
Amber Poitier
this holiday, so I will be looking to add a few of her pieces in the future.
Miscellaneous
Here is an index of the other businesses I patronized at some point in the year:
Anna + Pookie
Bags by Sistah PG
Bases Loaded Authentic Clothing and Kaps
(B.L.A.C.K.)
Brown Girl Beauty Co-op
BZB International
Capital City Mambo Sauce
Chat's Liquors
Crowned Charms
Diggin Her Roots Boutique
Heeey SugaFoot!
Here's the Scoop Ice Cream
Homemade Healing
Ivy's Tea Company
Jacq's Dolls
Jaida A Photography
Jazzabon Creations
NiLu Gift Shop
Petals, Ribbons and Beyond
Sweet Mossie's Stew Pots
TruGlory Greetings
Unique Aksents
Vegan Skin
by Paul Joseph
Vintage Glam Tea Party & Co.
Yvonne Ex
The Nile List
is an effort that was started by one of my Spelman Sisters this year to provide an online guide of Black Businesses, so you should assume that my list isn't nearly as comprehensive...but you get the point. Happy Shopping!