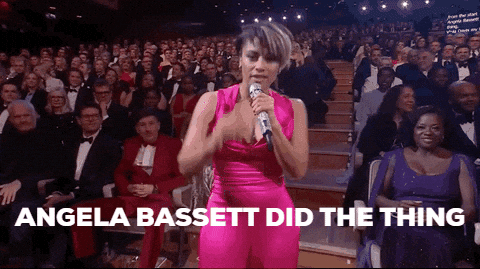 I waited a couple of days (and some change) to comment on this matter because understandably, folks have mixed feelings. We all want to believe that opportunities are apportioned accordingly, and that credit is given when and where it is due. We all want to believe that the sun is bright enough to shine on all of us. Therefore, I am not upset that Angela Bassett
lost
the Best Supporting Actress Oscar this year.
I said what I said.
I saw Wakanda Forever (2022) opening weekend. I have a piece in draft that I have been working on since last November that expresses some of how I felt about that movie and her stellar performance. It was great and worthy of the nomination.
I have not seen Everything Everywhere All At Once (2022) all the way through yet (keep missing the first hour), so I can't say if Jamie Lee Curtis was deserving of the hardware; therefore, I also cannot argue that her co-star Stephanie Hsu was more deserving. Instead, I can suggest that this was obviously a sentimental nod to Curtis, who has reached a certain stage in her career, thus very on-brand for Hollywood to honor her in this way. (But I know nobody really wants to hear that right now.)
However, and I hope that this can be an agreeable consolation, I fully expect that Bassett will get her Oscar. Not as a supporting actress mind you, but in the category that is most befitting of our Supreme Sister Auntie Queen. And on that glorious evening, my hope is that we will all look back on this current snub and humph in satisfaction that her triumph happened in due time and course, and not as some kind of consolation prize in response to an #OscarsSoWhite trending hashtag.
This year of our Lord 2023, the Oscar blessings went to badass Michelle Yeoh. And to the inspirational Ke Huy Quan. And to Brendan Fraser for wearing a fat suit. And yes, even to the Dean of the Scream Queens, Jamie Lee Curtis.
There may be reasons to believe that these were not the best choices, but those are debates for the critics and among the Academy members who saw each nominated performance. As we recently learned, we can't even guarantee that most of those voters actually saw all of the films. As to Jamie Lee Curtis, I say we dispense with the grumblings because this has to be the high-water mark of her career at this point. Yes, she's a veteran actress with famous parents and a considerable list of IMDb credits, but unlike some of her peers who have been nominated multiple times like Meryl Streep, Cate Blanchett, Frances McDormand, or Dame Judi Dench, the likelihood that Curtis will ever grace that stage to claim another statue is low. This is just one of those lucky flukes.
Casting director: You know what would be a hoot?
Agent: What? Jamie Lee trying her hand at martial arts?
Casting director: Yes, but what if we had her look like a crazy cat lesbian who could perform martial arts?
Agent: Can we do that? And what if we put her in a bad wig and give her floppy hot dog fingers too?
Casting director: Sure, why not? Who will even notice?
And Curtis loved the idea because who would have noticed her as a supporting character in a quirky film like EEAAO for a sporadic 10-15 minutes worth of screen time? There is no way she expected any of this attention until the nomination came and suddenly the momentum behind the film took her like a wave.
Furthermore, that is the entire point of honoring a Best Supporting Actor. S/he isn't the star--s/he's some random scene stealer who had an interesting/pivotal line or transitional moment. Either s/he died, killed, saved, or taunted the hero/ine: Louis Gossett, Jr. mocking Richard Gere as "Mayo-naise" while he slithers through the mud during basic training or a half-naked Anne Hathaway coiffed in a buzzcut and dying of tuberculosis. Everybody honored in that category enjoys their moment in the spotlight, then they disappear quietly to try their hand at something else like bee farming or Broadway.
That is not the career trajectory we should want for Angela Bassett. Quite honestly, it still doesn't sit well with me that Viola Davis got talked into submitting her name for that supporting category in 2017 because now it will take her another 20 years to ever get nominated again. We could have a whole debate over the value of an Oscar nomination as opposed to a win, and then more discussion about how it doesn't even benefit women as much as men in the grand scheme of things. We could engage in all manner of debate over the meaning of an Oscar versus the quality of roles in an actor's career. We could write these long think pieces about the snubs and slights and slaps, or...
We could write screenplays. We could write songs. We could compose music scores. We could design exquisite costumes and sets. We could be directors and producers. We could advocate for more opportunities for jobs in the industry. We could take notice of the fact that most of the people who win multiple Oscars are the folks who put in the work behind the scenes.
That isn't to say that our complaints that the #OscarsSoWhite weren't valid or that the improvements only lasted for a few award cycles. By drawing attention to the Academy's lack of diversity, changes did come. It came with everything, everywhere (all at once) from who got nominated to the kinds of projects that were greenlit. A Black woman was elected President of the Academy and we finally got a Black superhero movie with a Black director from the Blackest city on the West Coast. All of that set the stage for Ruth Carter to win two Oscars (and I bet no one even realized that she's been designing costumes since the 80s). Calling out Hollywood's highfalutin snooty predilections for English period dramas and biased historical fiction got them to broaden the categories to consider a wider range of films.
This is why I say we shouldn't sweat this. We can't adopt the same mindset that excluded us by suggesting that a win for one person or community is a loss of opportunity for another marginalized community because it isn't. No, an Oscar isn't a participation trophy, but neither is an Olympic Gold medal or a Superbowl ring. Everybody isn't going to get one but it's a good thing when more people are allowed to compete on that level. And in that sense, everybody does win. For too long, that wasn't the case, not just for Black people but for every excluded group in Hollywood. There is a world of talent--a whole world, and we've barely scratched the surface.
A few months ago, I spent a Saturday afternoon watching Turner Classic Movies, and I got to see the musical Flower Drum Song (1961) with Miyoshi Umeki, the first East Asian American actress to win an Academy Award (Best Supporting Actress for Sayonara in 1958). By my math that was 65 years ago, and I had never heard of her despite the historic nature of that career accomplishment. It took decades to get to The Joy Luck Club (1993) amid the incremental progress of individual Asian actors. And then it still took years to get films like Mulan (1998), Crouching Tiger Hidden Dragon (2000), and Crazy Rich Asians (2018), so if Black people are complaining that #OscarsSoWhite...and Mickey Rooney's cameo in Breakfast at Tiffany's occurred three years after Umeki's win, then I don't think we're done complaining about the lack of diversity in Hollywood.
Not when we just find out that the first Asian actress to receive an Oscar nomination in 1936, Merle Oberon, was passing for white so there is a disclaimer to the description of Michelle Yeoh's historic nomination. Not when we just learned that there are other regions in India (Telugu) that produce energetic musicals other than Bollywood. Not when women are still overlooked as directors in spite of turning in excellent work.
Which brings me to the inevitable backlash from the disgruntled old Hollywood guard. We start with that anonymous Cowardly Lion quoted throughout this article, the critically acclaimed Actor. I wasted a lot of time thinking about who this person might be and how best to express my disdain for him in the most unflattering way possible. I settled on a caricature--some former teen heartthrob, pretentious Tesla-driving, recurring CSI guest, nepo baby. In other words, another limousine liberal who claims to be vegan but only because he chews his steak and then spits it out (I'm pretty sure the interviewee is not Sam Seder, but you have to admit this clip perfectly illustrates the jab). Whomever he is, I hope karma comes in the form of his being fired by Gina Prince-Bythewood "the lady director" on some really prestigious project because he failed to "sit [TF] down, shut up, and relax" as told, so he's replaced by Cate Blanchett, who then goes on to win her third Oscar. As for Paul Schrader, that sleepy old fart...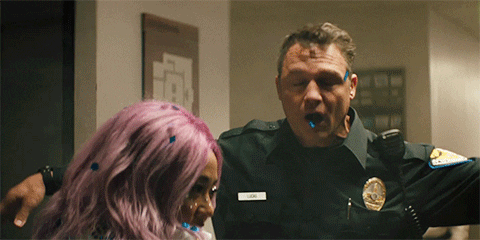 Finally, I have a few words for all of these body language experts on social media who seem to know what was going on in Angela Bassett's head when her name wasn't called for that Oscar. WTF? Are y'all just determined to make Black women the villain in everybody's origin story? She looked surprised and disappointed. Perhaps she assumed that if she was going to lose, it would have been to Stephanie Hsu or Kerry Condon. If you look at the pictures of her husband, Courtney B. Vance in the same moment, he's the one who's mad. He was hoping that an Oscar win would mean the kind of salary bump per project that would allow them to put their twins through college.
Instead, folks and I mean snarky assholes like Piers Morgan in particular, want to sell this narrative that Bassett should have appeared more gracious, as if others haven't had similar reactions to losing in the past. I vividly remember how the late Lauren Bacall looked absolutely pissed in 1997, and apparently that was not my imagination because she's included on this entire list of other disgruntled nominees. A really shitty and sore loser reaction would have been to storm off and leave like Morgan did here...but whatever snowflake.
too
good for the Oscar in that category. And that isn't shade to the
past winners
, it is just stating facts. This was hardly your defining career moment.
So on your behalf, I have already declared and decreed that this won't be the last time you'll be nominated; if anything, this will be the last time anyone can make the claim that you aren't worthy of an Oscar. You've proven that time and again since 1992 when you were first nominated for portraying Tina Turner. This entire controversy is a distraction meant to rationalize why the Academy has been dragging its feet in acknowledging you and how they messed up the televised In Memoriam segment again.
That's all I have to say. I'm pretty sure that Courtney, your kids, Austin Butler, and everyone else has bestowed you with flowers and all manner of consolation. Michael B. Jordan and Jonathan Majors already let the Academy know they messed up when they took to the stage. And in spite of these hit pieces written by the publicists of some other disgruntled actresses, we are confident that you remain unbothered and thoroughly unfazed. You and Jamie Lee Curtis will be photographed getting drinks and this will blow over. You know who you are, and so do we.