This
headline
made up for my entire week, it gave me life, it buttered my bread, and it had me doing the running man! Yes, yes y'all, the 90s are back!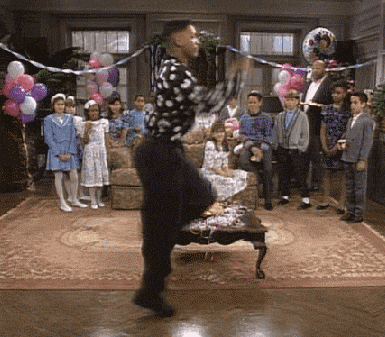 Ok, now sit down before you pull something, lol!
It occurred to me last week as I was flipping through
Glamour Magazine
(which I read in the 90s, but now only at the salon) that there was something very retro in the air lately. I saw lots of familiar stuff that I remembered from my college days: floral prints, short haircuts, tube skirts, crop tops, all-over denim, Coach bags, flannel, and color blocking. Of course, I should have known it was only a matter of time that all of these trends would make a return since folks have been walking around in leggings for quite a while now.
And for the record, leggings still are
not
pants. But y'all are determined. And before I act all brand new like I haven't rocked a pair of leggings outside of dance class, during my pregnancy leggings were the default leg covering of choice. Those, one pair of cropped ankle maternity jeans, and a black tube skirt...so come to think of it, pretty much my entire maternity wardrobe was a throwback to the 90s!
It isn't just 90s fashion nostalgia that has found its way back. It is the music, thanks to shows like
Unsung
on TVOne and
90s Nation
on MTV. That
New Edition movie
and their electric reunion performance on the BET Awards. I'm suddenly seeing well-preserved supermodels that used to grace the covers of my magazines now selling age-defying makeup. I'm seeing dark eyeliner and matte lipstick. We're watching SNL and laughing. After the divorce, y'all are back to having casual sex again. Didn't The Rock star in a
Baywatch
movie? In addition to various sitcom reboots, I am seeing black folks unrelated to Barack Obama all over the place on TV. And just think if Hillary Clinton had been elected...
Of course, I believe I am noticing all of this 90s nostalgia because that was my transition decade. I graduated high school, college, law school, and got my first professional job during that time period. I met the Hub during that decade. And I am being reminded that all of those milestones occurred TWENTY years ago! And in the midst of celebrating
our
stuff, some of our kids are coming of age and graduating from high school, college, going to grad school, getting married, etc. Suddenly I understand why our parents were having midlife crises during the 80s. Time flies.
So let's talk about a possible
Living Single
reunion. And instead of ruining it by debating the merits of whether we need a full on rebooted sitcom with episodes or just
another reunion special
, let's all agree upfront that it would be great to catch up with the gang to see how their lives have changed in the past 20 years. Although for the sake of just putting it out there, the movie route worked for
Sex and the City
the first time...
Anyway, starting with Khadejah, we last saw her going off with Scooter, leaving her beloved magazine
Flavor
behind to be run by a publishing conglomerate. Now in my mind, that isn't how that story should play out: Scooter and Khadejah definitely hook up again, but this isn't some urban fairy-tale where she is content to be his road assistant. Instead, I want her to reboot
Flavor
as a social media publication, and I want Scooter to be the CEO of a music subscription service. They each run their empires in the same building that they now own somewhere in un-gentrified Brooklyn. And they also own the brownstone, still the hub of all the action.
I imagine that Regine and that guy she married in the last season lasted for a while, but then the
Housewife
reality shows offered her a chance to showcase her event planning business and be seen again. And as reality shows tend to dissolve marriages rather handily, she continues to be the reigning matriarch of the Brooklyn version while now living in Kyle and Overton's old apartment upstairs in the brownstone. Her twins, Reginald and Jeanette, make occasional appearances, but they are away in college.
Maxine and Kyle's story was picked up on the show
Half & Half
for one episode, which found them living in San Francisco and raising their daughter, Kyla. I would have them move back to New York, living downstairs in the brownstone, co-parenting their second love child, a ten year old son named Michael. Their daughter is away in college with Regine's kids. Max should either be a DA or a judge; Kyle is now a successful producer on Broadway (which gives him a reason to randomly break into song, instead of the
contrived reasons
they found during the original run).
Synclaire and Overton are definitely still married, but no longer living in the brownstone, since they have had five sons. Sinclair did some acting work for a while, but she found her true calling online as a crunchy, yet hip
lifestyle maven
. She even has a show that is distributed by Khadejah's company. Overton still occasionally works as a handyman, but he is a happily semi-retired stay-at-home Dad. Their oldest son, Overton Jr. is also away in college, while the rest of the boys live at home.
And those are just the scenarios I thought of off the top of my head. So if this is really going to happen and you are looking for a writer, I am available.