Recently, I was in the car when I heard the last few minutes of a segment on NPR that celebrated the classic PBS Kid's show, The Electric Company (1971-1977). As many of you know, I am a PBS Kid all grown up, so it was a fun trip back in time to remember that show. I posted a few clips on the Facebook page, and then of course...
Yep, I fell down a rabbit hole of memories and recollections that I just had to share! In addition to so many fond memories of TEC, I found clips of several other kid shows I grew up with, not all on PBS, but several that definitely shaped my Gen X childhood. Additionally, with quite a few friends preparing to celebrate that golden milestone of having lived for 50 years (and several who have already done so), I thought it would be fun to take you all on a trip back down memory lane to recall several of the shows that helped define our childhood.
First, a few words on the original The Electric Company, since that launched this reminiscence. It was an integral part of the programming block of shows that I watched on PBS as a child (as you know, in between Sesame Street and Mr. Rogers' Neighborhood). Too much time has passed for me to remember exactly what time of day or for how many years I watched, but certainly enough to still remember several sketches all of these 40+ years later. We also had this cast album which got played regularly, so I have deeply embedded memories of the theme song as well as many others (listed below). At some point, the show got canceled, but never forgotten, as I am sure many of my peers will attest.
While I have stronger recollections of that classic PBS trio, there were other kids shows on the network that aired during that same time period. Some I remember better than others, maybe because they only aired on the weekends, which is why I have memories of seeing Zoom (1972-1978), but have no idea what it was about. I did remember the opening song and probably noticed that there were different kids on each episode. The same is true for Villa Alegre (1973-1981), which I thought was called Viva Alegre, so that probably explains why my spanglish is still terrible after all of these years.
However, one show that I remember well was 3-2-1 Contact (1980-1992). In addition to watching it most days after school, special segments were shown in school during science class. What I find remarkable about the existence of this show is how it promoted STEM long before we called it that--when it was merely learning and emphasizing practical applications of science and math. It imagined the reality of relying on a personal computer for relaying information, a prospect that seemed inconceivable in our analog world of the time. It also had a companion magazine, for which I had a subscription until I graduated from elementary school. In addition, 3-2-1 Contact contained a show within the show about a kid detective agency called The Bloodhound Gang, that solved "crimes" using the scientific method or some concept that had been introduced on the show. Was it just me, but did anyone ever see both parts of those mysteries in succession, or was it like those corny Batman cliffhangers?
Beyond PBS, there were cartoons, but we'll have to reminisce about the kid-friendly ones another time. I am old enough to remember Captain Kangaroo (although not this old), but still older than a mug, according to a friend's recent Facebook post. Bob Keeshan (who donned the coat with the big pockets from 1955-1984) was already a kid show veteran, having been the original Clarabell the Clown on the Howdy Doody Show (1947-1960), the first children's show that our parents watched. I have vague recollections of Romper Room (1953-1994) and the Magic Mirror, but I became a devotee of Sesame Street early on, so neither of those other shows made lasting impressions on me. Nor did Shari Lewis and her ubiquitous sidekick Lambchop, whom I saw as a guest on talk shows and gameshows, not knowing that she had once had her own show and a cult following.
However, the two non-PBS shows that did make an impression on me were the New Zoo Revue (1972-1977) and the Great Space Coaster (1981-1986). What I recall the most about the NZR were its creepy life-sized furries: Henrietta Hippo, Charlie the Owl, and Freddie the Frog. I feel like everybody should remember the theme song to the GSC (as well as this Family Guy spoof), and Gary Gnu, everybody's favorite gnews reader. But did you also remember the Speed Reader and the La Linea segments as well? And I might be wrong, but I think GSC featured the Carole King and Maurice Sendak Really Rosie (1975) animated shorts, including my all-time favorite, the Story of Pierre.
Speaking of shows that introduced beloved book characters, we must return to PBS and pay homage to Reading Rainbow (1983-2006), which ranks high on my nostalgia list for a variety of reasons. We revere host LeVar Burton as a national treasure, but that is thanks to his many faithful years of preaching the gospel of reading. I actually saw the premier episode of that show during the summer of 1983, even through I was already older than the target audience. I remember that we watched it together with our Mom and then we spent a great deal of time at the library, always on the hunt for some of the books that had been featured on the show. And for anyone who didn't already know, it was Reading Rainbow that introduced us to Marc Brown's popular Arthur the Aardvark character, before he became the star of his own iconic PBS Kids cartoon (1996-2021). The book, Arthur's Eyes, was read by none other than Bill Cosby.
In the 1970s through the 2000s, Bill Cosby made the rounds on various kid's programs during this era, so we won't ignore or diminish his contributions despite his current persona non grata status. He was part of the original cast of The Electric Company, he appeared on Sesame Street, and he hosted a segment on Captain Kangaroo. He also created the iconic Fat Albert and the Cosby Kids (1972-1985) cartoon show during this era, which was a staple on Saturday mornings for years. Although we will revisit some of the other great cartoons of our youth at another time, Fat Albert deserves mention along with Little Bill (2000-2004), another Cosby creation that sought to impart moral messages on values and education. with the same objectives. This was why so many of us who grew up with this image of him as America's Dad and life-long education advocate found the revelations about his personal life so dissonant and perfidious.
Of course now at our age, we know better than to conflate the persona with the actor; yet, we also know that the revelation of certain human foibles and faults can be disastrous. Infamously, comedian Paul Reubens, who created the character Pee-Wee Herman and later the TV show Pee Wee's Playhouse (1986-1990), was arrested for indecent exposure in 1991. By that time that happened, I was in college and definitely old enough to understand the concept of separating one's personal life from one's work, but I can only imagine the dilemma that created for parents of younger children. Kids don't necessarily see these characters as performers, but as real people. And adults want to believe that the people who bring these beloved characters to life are as kind and good as their alter egos.
Ironically, one of the objectives of children's television programming in our day was to teach concepts that might have been challenging for adults to explain. While the most notable example of that was the explanation of death on Sesame Street, Mr. Rogers's Neighborhood (1968-2001) dealt with emotions and feelings from the outset. His show tackled real issues such as divorce, the birth of a new sibling, moving, taking care of pets, and understanding physical abilities. Often mocked for its absurdity, his Neighborhood of Make Believe helped to reinforce the magic of imagination. I still remember when I finally understood why Mr. Rogers never appeared on the other side of the tunnel...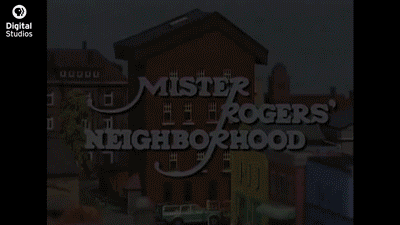 Once that made sense (and as I got older), it was easier to separate fact from fantasy when seeing the actors on adult shows or in commercials. I remember when I saw Lee Chamberlin on other shows and Judy Graubart in commercials. Later I realized how significant these shows had been for actors in the early or transition stages of their careers, particularly for adults like Morgan Freeman, Rita Moreno, and Alaina Reed to half of the performers who appeared on Kids Incorporated (1983-1994).
Of course, there are a slew of iconic kid shows from the 80s and 90s that I don't remember for various reasons. Fraggle Rock (1983-1987) tops the list because it aired on HBO. The Elephant Show (1984-1989) must have also aired on cable because I only learned about it's existence when as a Toddlersaurus, my daughter became obsessed with the Skidamarink song. I was in high school when Pee Wee's Playhouse aired which explains why I missed the revelation that Laurence Fishburne was the jheri curl cowboy. A friend recently posted about introducing her daughter to Zoobilee Zoo (1986-87), another show I missed by a few years. By the time shows like Barney & Friends (1992-2010) and Blue's Clues (1996-2006) were popular, my kid show watching days were over unless I was babysitting younger cousins, nieces, or nephews.
Thanks to these past few years with my Babe/Toddlersaurus/Kid, I've become reacquainted with several of my old favorites from childhood as well as the current incarnations of those same shows. Sesame Street, which celebrated its 50th Anniversary in 2019 remains the gold standard, even with the format and cast changes since 2015. Although Mr. Rogers has been in syndication since it finished its original run 20 years ago, its animated reboot Daniel Tiger's Neighborhood (2012- ), is a favorite among this generation. The revived Electric Company (2009-2011) had already been canceled by the time it entered our rotation of must-see TV, but we watched the reruns on HBO until it got moved to the streaming platform last year.
EC
had potential but it only lasted two seasons. It brought back some of the iconic segments from the original show such as the
word blends
in silhouette and it updated the teaching component with modern musical numbers (like this high energy
Silent E
). For a while, they even brought back
Paul the Gorilla
. Their Music Man segments might have been intended as a nod to Easy Reader. Instead of a sketch comedy variety show, the format of the new show followed the classic
Sesame Street
model with a continuous storyline involving the core cast. After watching a few cycles of it in reruns, and despite an all-star roster of guest artists including
Ne-Yo
,
Wyclef Jean
,
Good Charlotte
, and
LL Cool J
, it could not recreate the magic of the original. The new
EC
might have worked better if the cast had been given more interesting storylines, if there had been more memorable songs, and well...let's just say that not even the brilliant
Lin-Manuel Miranda
could save the show from being corny and dull.
Now corny is expected in the realm of children's programming, but dull is a mortal sin. Kid shows have a limited amount of time smaller window to catch on because there are a lot more options than when we were growing up. With multiple channels and entire networks dedicated to providing children's entertainment, that means an abundance of distraction, sensory overload, mediocrity, and less emphasis on educational content. In my biased opinion, the better quality shows are still on public television, an observation that makes sense since I grew up without cable. As a parent, I am more familiar and trusting of PBS to support my child's education; yet, I have noted that in order to remain competitive with the cable offerings, their content has had to adapt. Instead of one show like Sesame Street or Electric Company to teach kids reading, phonics, spelling and math, now there might be six. And with shows airing all day and on-demand, new programs can run their course within a few months.
Repetition is why I can still remember my favorite songs from the original Electric Company some 40+ years later, but that was from watching the show over a span of years, not weeks. The segments were shuffled and recycled constantly, just like School House Rock (1973-1984) which aired on Saturday mornings. We didn't grow tired of those shows, we just grew out of them as we got older, but the lessons never left us. That is a topic for another day as the time has come to bring this episode of Adventures in Gen X Nostalgia to a close. I hope this piece rekindled some great memories...as you can tell, I've got enough to keep this going at least until my 50th Birthday!
In the meantime, here is a Top 20 countdown of some my favorite songs and skits from the classic Electric Company (including a few that were not featured on the Facebook page). There were several skits I was unable to find individually, so you might want to check out this full episode or one of the compilation clip shows for some of your favorite characters like Jennifer of the Jungle, Fargo North Decoder, and J. Arthur Crank: