What in the world does
Sesame Street
have to do with Black Music Month and is this just a way for me to
finally
sit down to write about what is, hands down, the Kid show #GOAT? Well YES, because I've been scheming on a way to write about
SS
since the Kid became a believer!
My opportunity comes courtesy of a few weekends ago when the
road show
was in town; however, because we were headed out of town, we had to miss the local festivities. Luckily, what the Kid don't know won't kill me (because therapy ain't cheap for pre-schoolers)...although in my defense, we had too much going on to fit in such an activity. So fast forward to the Monday afternoon drive when NPR's All Things Considered aired a
segment
about its
Tiny Desk Concert
with the Sesame Street Muppets. And all of that happens to coincide with the fact that we have reached that golden milestone of 50 years since
Sesame Street
first premiered!
(For those of you who haven't had any reason to care that
Sesame Street
has been on TV that long, yeah you're
that
old.)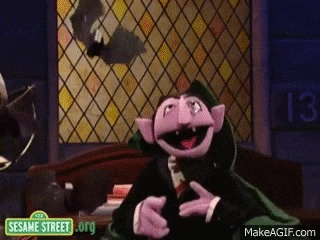 So again, what does
Sesame Street
have to do with Black Music Month? So glad you asked. And since I hope that this won't be the last time I write about the show this year, we will take another opportunity to explore other facets of the show's cultural influence. But to provide some context, from the outset the show intentionally sought to provide positive examples of Black culture in response to the assassination of Martin Luther King and the end of the civil rights era protests.
Dr. Chester Pierce
, a Black psychologist who consulted with the creators of the show helped to define the roles of
Gordon and Susan
, the Black nuclear family featured prominently on the show.
Thus, that history and the understanding shared in the NPR interview, it would seem inevitable that if music was intended as a primary vehicle for
SS
to reinforce educational concepts, then that would mean the incorporation of multiple genres. Because children often listen to the same popular music that their parents enjoy, on
SS
the music reflected what was popular on the charts in order to appeal to parents and children alike. Which, for example, is how we got a disco album in the late 70s. And a Muppet parody of
Shaft
...
Various Black music icons appeared on the show through the years, most often to perform a rendition of the alphabet, such as
Lena Horne
,
The Pointer Sisters
,
Patti LaBelle
,
Ladysmith Black Mambazo
,
Bobby McFerrin
,
Usher
,
Reuben Studdard
, and
India.Arie
. Or maybe it was to perform a
SS
standard, such as
Believe in Yourself
by
Diana Ross
,
The Neville Brothers
, and
Ray Charles
; "A New Way to Walk" with
Destiny's Child
; and
Lena Horne
again with the classic "It's Not Easy Being Green". Sometimes there were lessons related to concepts like the changing seasons with
George Benson
; traffic safety with the
Four Tops
; equality and empowerment with the
Pointer Sisters
; imagination and adventure with
En Vogue
; patience with
Janelle Monae
; and cooperation and unity with
John Legend
. And to support the reinforcement of the letter/number of the day, there were adaptations of hit songs by
Smokey Robinson
,
BB King
, and
Queen Latifah
.
To illustrate just how integral Black music was to
Sesame Street
, take note of the variety of genres represented: jazz, blues, gospel, disco, hip hop, world music, and popular R&B. At one point, every major artist of a certain era appeared on the show. One of the most memorable guests was none other than Stevie Wonder, who managed to commandeer an entire episode. He provided the requisite educational content relevant to the target audience--a segment with the
alphabet and numbers
and some interaction with
Grover
(who was
the
Muppet star of that era). Then there was the grand finale that featured a super funky extended version of
Superstitious
, which made no sense on a children's show in hindsight, but we're all here for it.
The impact of Black music was not just reflected in the visitors to the
Street
; it was also incorporated into the skits and parodies that involved the regular cast. The Muppets were versatile enough to be used as backup singers to the human guest artists, like the great
Cab Calloway
, or they could be transformed to suit the parody, such as the
Oinker Sisters
(soulful trio of gospel singing pigs) and
Squiggy Marley
(a reggae band of worms). The human cast also got in on the fun with their own version of the Pointer Sisters'
Swinging Alphabet
and my all time favorite,
Gimme Five
, a classic send up of 70s doo-wop groups.
As the times and format of the show evolved, the use of music similarly changed. Of course by the 90s when I was in college, I rarely watched, but I did note certain changes such as more famous cameo appearances,
younger cast members
, and more urban themes as in the
closing credits
. By this point, because
Sesame Street
had been on television for more than two decades, its influence extended well beyond the screen. The emergence of Elmo as the star found him taking center stage--more skits, his own segment, and even his own line dance,
The Elmo Slide
. Other Muppets still had moments to shine, as with this Ernie and Bert take on the
Fresh Prince
and this hilarious parody of them in this viral video mash up of Warren G and Nate Dogg's
Regulate
.
Literally, I could find countless examples (and trust, this project has kept the Kid and me entertained). I continue to be amazed with the imagination and creativity that has managed to stay so memorable all these years later. There were clips I hadn't seen in forever, but they were just as enjoyable as the modern clips that bring the Kid so much joy. To think that when the show celebrates 60 years, this song with
Will.i.am
might be considered a classic. I cannot think of another children's show that has had such a cultural impact or that has been as universally endearing. What other show can say that their theme song has been sung by the likes of
Gladys Knight and the Pips
or by
Jimmy Fallon and The Roots
?
Only
Sesame Street
, the most colorful urban cul-de-sac where humans, monsters, and oversized animals live in peace and harmony. And there you have it--a Black Music Month tribute that's family friendly, educational, nostalgic, and that everybody can appreciate. Especially one that ends with the famous
Pinball Song
!