A friend texted me to inquire if I planned to watch the latest episode of
Mixed-ish
, the sitcom prequel that offers a backstory for
Rainbow Johnson
, the character portrayed by my imaginary twin sister, Tracee Ellis Ross (because we look and act exactly alike). As usual, I had forgotten what day the show aired, so I put the Kid to bed and tuned in. My friend had intended for me to live-tweet about the episode, but I got distracted, so I turned my focus to the much ballyhooed
Girlfriends
reunion episode of
Black-ish
.
(Full disclosure: Even if she hadn't texted a reminder, I would have tuned in to watch Mixed-ish because the show-runner is a classmate of mine from middle school, high school, and college. This will be must-see TV for me whenever I remember to tune in, which will probably be hit or miss, so at some point I will need to watch a marathon on demand to stay current.)
Nevertheless, the episode covered a lot of ground in less than 30 minutes considering the fact that Black hair is such a touchy subject. Touchy as in don't-touch-my-hair-unless-I-am-paying-you-to-do-so, but because I wasn't paying close attention, I'm not sure if that is one of the issues that was addressed. I also don't know how the younger brother ended up with beads in his head like
Stevie Wonder
from the early 80s, so that's something that might make more sense upon a second viewing. However, I do
not
need to re-watch the exploration of feminism on
Black-ish
, which for what it's worth is also a rather weighty topic to attempt to address in less than 30 minutes...
When we were younger, family sitcoms were big on
very special episodes
, and
Black-ish
has apparently revived that aspect of the genre. Every episode is very special. Every episode provides timely social commentary. Every episode is meant to provoke deep reflection or provide some epiphany, which is why I often find the show very annoying. Especially this tongue-in-cheek
musical number
and this
Good Times-inspired
dream sequence...every episode feels like that sociology class in college I was excited to take until halfway through the semester when the weather got nice. Then I lost interest.
Such was the case with the feminism episode--I was excited for the
Girlfriends
cast reunion, but once we got halfway through and everything went left, the struggle to see it through to the end got real. I've got lots of notes, so let's begin with my frustration that in an episode about feminism, which certainly started off with promise by centering on Rainbow, her daughters, and her friends, the most poignant and crucial moment occurred in the boys night out
subplot
. But put a pin in that for the moment...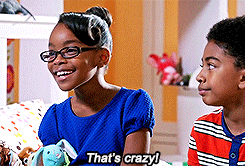 Rainbow and I are the same age, so we were in college in the 90s when this existential conflict of feminism versus Blackness reasserted itself for our generation. Maybe I'm mistaken, but I thought we settled this by determining that we can be friends, call ourselves allies, but we also
know better
...I mean isn't that why Alyssa Milano and Bette Midler get dragged on Black Twitter at least once a month? (And we love
Charmed
and
Hocus Pocus
, btw.) So I guess I don't understand how Bow suddenly had this confrontation in her 40s. You mean to tell me that she never had a come-to-Jesus moment with a white feminist? In California? Not with some hippie aunt or ex-bff from the commune? Not even at Stanford? Really???
Ok, if that's what you expect me to believe, then explain why y'all under-utilized Yara Shahidi in this episode. This would have been perfect fodder for a future episode of
Grown-ish
since her character is in college and
probably
definitely would have some serious encounter with this topic on campus. Or is that just my unrealistic hope that
Grown-ish
will eventually tackle something other than Zoey's chronic self-absorption? I know, this isn't
A Different World
...
And what's up with hyping us up on a
Girlfriends
reunion that didn't give us any of the classic interplay we expect from this ensemble? Did they even get new character names? Why was the best moment was when Toni expressed relief that Ruby wasn't her Mama? And y'all just threw William in at the end as a tease!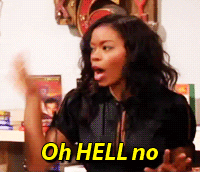 Look, it wasn't a bad episode. It was timely and poignant and typical of
Black-ish
, with the only notable exception being that one story arch where Dre and Bow separated (which must have come from
real-life
). But it frustrated me, much like the
HBCU episode
did because it tiptoed right up to the line, went left, and then neatly resolved the conflict without any lingering fallout. I cannot be the only person left wondering if Bow will be able to make up with her white activist friend, or if we will be treated to more cameos with her Black friends. And how long is this
gap year
Junior is taking going to last?
As far as this being a typical sitcom take on feminism, I am dissatisfied. The resolution cannot be that each side gathers up her things and goes home. We cannot make progress if we accept that white feminists shouldn't have to consider race, nor should we advance the narrative that being inclusive towards women of color is some kind of hostile takeover. There is a middle ground that takes work to traverse, and the pay off can benefit us all at the moment of truth.
Unless the real intent of the episode was the subplot I referenced earlier, which was Dre's awakening to the idea that white people tend to regard racism with the same disbelief and indifference that men respond to sexism and misogyny. And if that was the point, then that is also classic
Black-ish
: Dre, the giant man-baby, is the
center of attention
even when the show isn't supposed to be about him.
Which of course, is precisely why Black women cannot afford to reject feminism. Call it womanism, being intersectional, solidarity, or woke as fuck, we are already on the third or fourth wave of a struggle that goes back at least as far as Harriet Tubman leaving her husband behind for freedom. He'll either catch up or he won't, so stop tripping, sew a satin lining into that pussy hat (we got edges to protect), and let's get to work.