Y'all...(and yes, I know today isn't Wednesday)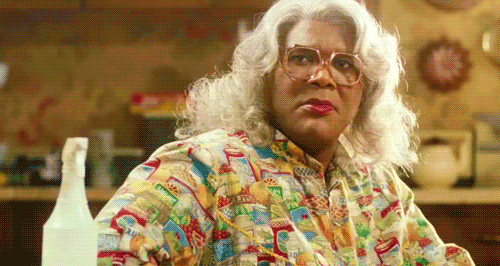 For what it's worth, I appreciate every person who reads this because I do not take it for granted that in the grand scheme of things (seeing as how the DESPOTUS came
thisclose
to igniting World War III and
still
won't be removed from office), you have better things to do than to read another think-piece by a wish-I-was-a-published writer about Tyler Perry. Especially as I too, have better and more important things that I could be writing about; yet here were are. Eating a whole bucket of Nashville
hot fried chicken
barely a week into the new year.
You know the background details, but in case you missed it, Tyler Perry posted
this
to Instagram earlier this week and Black Twitter responded accordingly with the requisite high fives (from his fans), and then
dragging
(from his detractors), while the rest of us in the cheap seats contemplated the direction our lives could have taken. Either way, we all broke New Year resolutions to stop cussing, lying, hating, gossiping, eating/drinking too much, being snarky, comparing ourselves to others, selling ourselves short, boasting, bragging, coveting, cheating--whatever promises we made to live our best lives in 2020.
And all because Tyler Perry thought he would impart some timely wisdom from the Gospel of Self Reliance, narrated by Madea. I'm sure his intentions were good. He wants us to succeed, just like he did by pulling himself up by Jesus's bootstraps (otherwise known as that time he asked his Mama to let him borrow her house dress and one of her wigs). He once lived in his car, but now his name is on a
highway exit
in Atlanta! Hellurr???
So what we're not going to do in the year of our Lawd 2020 is hate on the man who has The Oprah and Uncle Joe Biden on speed dial, as well as a payroll of enough hard-working blue-collar Black people to rival the postal service. All of my fellow starving artists take note--Perry built an entire empire from those one-dimensional church skits that Sister Mary Jenkins plucked out the week before the Easter pageant on her old Remington typewriter (the one where some of the letters didn't work anymore, so she hand-wrote in the
R
s,
T
s, and
Y
s). While we're broke and hungry for a Popeye's fried chicken sandwich, Perry is eating chicken cordon bleu every night. Why? Because of his work ethic.
The kind of work ethic that doesn't involve writing and re-writing or editing, outlining and researching to create unique plots and authentic characters. He doesn't have time for that shit. I mean, how long do you think it took for him to pen
A Madea Family Funeral
?
The kind of work ethic that doesn't have time to negotiate with
unions
, which is why it isn't all that surprising that Perry doesn't employ a
writers' room
or that he's shamelessly enjoying the perks of Georgia being a
right to work
state. In technical terms, one of the benefits of establishing a foothold in
Hollywood South
is exploiting the advantages of cheap labor and production costs with favorable tax incentives.
That same cocksure work ethic has provided opportunities to many Black actors, some of whom can say that a Perry written, produced and directed film propelled them into the mainstream spotlight, most notably Idris Elba and Tessa Thompson. For veteran actresses like Cicely Tyson, Loretta Devine, Kimberly Elise, Alfre Woodard, Gabrielle Union, Sanna Lathan, Kerry Washington, Janet Jackson, Lynn Whitfield, Jenifer Lewis, Phylicia Rashad, Thandie Newton, Angela Bassett, and Whoopi Goldberg (and I'm sure there are others), his films have provided solid in-between work. We're not mad...just relieved that none of them had to suffer the indignity of losing an
NAACP Image Award
to Madea.
Give the man credit for all he has accomplished and then recognize what he is and what he is not. Tyler Perry is a shrewd businessman, much like
Byron Allen
. He is a content creator, which is not a 21st century synonym for an artist, so his work product should
never
be compared to the brilliance of
Kenny Leon
,
Ava DuVernay
,
Lee Daniels
, or
Suzan Lori-Parks
. His chosen lane is quantity, not quality, which in turn has earned him more money, power, and influence than most of us could imagine. Greatness and excellence are too elusive and subjective; whereas mediocrity is more lucrative work, if you can get it.