Two years ago I wrote a piece on the Cafe blog called
Oscars So Black
, which I had intended to supplement with a piece about the Oscars being so estrogenated as well (but I never got around to writing that) and here we are, a few minutes before midnight and the Oscars are over, and y'all they finally gave one to
Spike Lee
!
And once that happened, I surmised that the Black winning streak was over for the night, but then
Green Book
rose from the ashes of
controversy
to put some serious wins on the board, including a second Best Supporting Actor for Mahershala Ali. I don't know why I was so shocked especially since they flew Rep. John Lewis in to introduce the segment that highlighted that film for Best Picture, because that is Hollywood's way of telling us that just like Starbucks, they can solve their racist past by giving away Oscars to everybody Black who doesn't already have one or maybe needs another one.
Lest we forget it was during the Golden Era of the Obama Administration that Hollywood managed to produce several all-white award show cycles, so the Cynical Black Woman in me wonders if all of this diversity will last once a certain person gets impeached, resigns, or sent out to pasture. Ya dig?
(Ok, I fell asleep last night, so now we pick up where that thought bubble trailed off. However, before I try to tackle that question, let's recap some of the Blackest moments from last night):
The Supremes
Regina King. Ruth E. Carter. Hannah Beachler. #BlackGirlMagic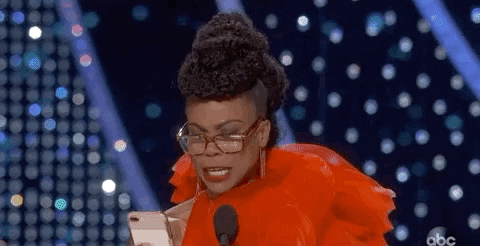 HBCU Excellence at the Oscars
Ruth E. Carter, the costume designer for
Black Panther
(as well as several other films) is an alumna of Hampton University. And I think everybody knows after that incredible shout out last night that both Sam Jackson and Spike Lee graduated from Morehouse College. Chadwick Boseman, who was not nominated (but who gets honorable mention because we know it is just a matter of time or the next biopic) is a graduate of Howard University. Maybe that doesn't matter to anyone else except other HBCU alumni, but since we're broadcasting from Wakanda, I just thought you should know...
Black Don't Crack
I just need everyone to recognize that Cicely Tyson is 94 years old and it has been 45 years since she was nominated for
Sounder
. Sam Jackson is 70 years old and is still the hardest working actor in that town. Spike Lee still looks, dresses, and talks like Mars Blackmon, a character he created 35 years ago. Regina King still looks like Brenda Jenkins, the teenager she played 30+ years ago on 227. It doesn't even matter how old Mahershala Ali is because he won't look any older the next time y'all call him up to the stage.
Billy Porter
I gasped when I saw Billy Porter's
tuxedo dress
by Christian Siriano. And that is the only reason why I believe he came--to slay us all with his epic fabulousness:
John Lewis at the Oscars
When
Selma
, the film that actually featured the story of a young John Lewis was passed over for an Oscar nomination in 2014, it helped to make
#Oscarssowhite
go viral. Maybe this was just a nice gesture a few years after the fact, but he was also just at the
Superbowl
so now I'm worried that he's checking off bucket list items or something...
I could stop right there to bask in the afterglow of all that Blackness--and all of the positive energy that was shared to celebrate
immigration
and
women
and
Freddie Mercury
...but then a certain person sent
this tweet
early this morning about Spike Lee. So the answer to the question that I was pondering last night is yes. These grand gestures that showcase diversity in all of its glorious hues and textures are definitely about neutralizing the stench that currently emanates from the White House.
But gestures are meaningless if they are only reserved for rare and unique cultural moments. I mentioned earlier that Cicely Tyson was nominated for an Oscar back in 1973, but she is just now receiving recognition by the Academy. In those 45 years, the bulk of the awards that have gone to people of color were given in the last 25 years, and that has typically occurred in response to complaints about the lack of diversity in the process. It should not take hashtags to get people to understand the importance of telling diverse stories (nor should it require a
billion dollars
in ticket sales). I know movie-making is still a business, but it doesn't make sense that it took the success of
Bridesmaids
(2011) to get us
Girls' Trip
(2017).
Wakanda might not be a real place, but it was brought to life by the imaginations of two Black women. What other glorious sights, sounds, textures, and stories are we missing by only seeing the white light instead of the colors it produces?